Introduction
Please allow us to introduce ourselves. WYML-LP, 99.9 FM and www.wyml.us, is your community radio station for McHenry and Lake Counties where 100,000 people live, work and play! Combined with the power of the Internet, we extend our coverage to the world. You can tune into WYML using your FM radio and just about any smart device. From Amazon Alexa to your smartphone. Even in your vehicle using Apple Car Play or Android Auto! We are truly the radio station for McHenry and Lake Counties.
---
Our Mission
At the heart of WYML is a desire to provide infotainment. From locally produced shows and weather forecasts to world news and of course a music play list that rivals even the most sophisticated listeners music collection.
---
LPFM Radio
WYML is an LPFM station licensed by the Federal Communications Commission.
LPFM means Low Power Frequency Modulation.
Per FCC Rules, an LPFM station must be owned by a nonprofit educational institution, corporation, or entity under Illinois laws. By design an LPFM station cannot be owned or otherwise controlled by a corporate media outlet. WYML is owned by Local Community Broadcasting, a registered 501(c)(3) non-profit organization based in Ingleside, Illinois and broadcast from Prairie Grove, Illinois.
The rules also dictate our broadcast parameters. LPFM stations are limited to 100 watts, a specific type of antenna, height and certified transmitter.
Because of the non-profit rule, an LPFM station may not broadcast commercials. This is a challenge for stations to cover operating expenses. When you listen to WYML, you will hear messages about sponsors who have provided funding to operate our station. The messages are very basic, in most cases limited to a name, location, contact info and what services are offered. One exception is if the sponsor themselves is a non-profit. Then the rules are a bit more flexable, but not much
For more information about LPFM service, the FCC offers some useful information at their website https://www.fcc.gov/media/radio/lpfm-frequently-asked-questions. There are also resources on Facebook groups if you are interesed in learning more.
---
Broadcast Area
As an LPFM restricted to 100 watts of power, we do fairly well in terms of how far we can reach.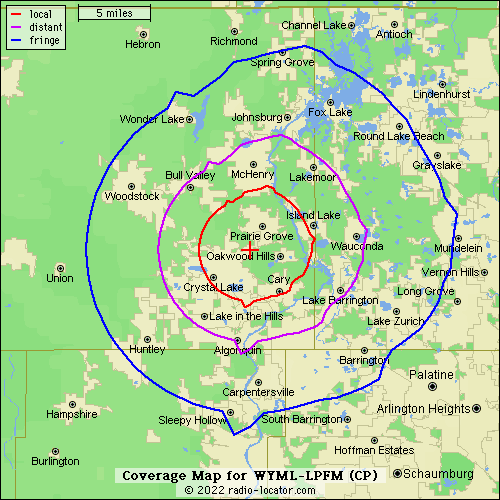 We further increase our reach worldwide by sending our audio over the Internet
---
History
In 2005 WYML wasn't WYML as we know it today. It was an Internet stream. No over the air broadcast. Joe Serocki wanted to provide radio experience to the BoyScouts of America so he started the stream to provide a studio for the scouts to get experience in production.
After some serious research looking for a way to transition the stream to a true broadcast, Joe found a home in Prairie Grove. A construction permit was approved by the FCC on January 31, 2014 for WIMH-LP.
Construction of a 50' tower and equipment started with the help of local volunteers.
On October 16, 2014, Local Community Broadcasting filed a callsign change with the FCC to WYML-LP as it better aligns with the mission of the station. We're Your McHenry and Lake County Station!
On January 19, 2016 WYML began broadcasting on its official Broadcast License from a transmitter site located in a basement in Prairie Grove, IL. located off Bareville Road.
The Village of Prairie grove has rules in regards to signage, so the broadcast site was never identified visually in public spaces. Most residents had no idea that we were even there. To get the word out of our existence, we relied on social media and listeners finding us by scanning the dial.
On May 25, 2021 our landlords board of directors elected to end our agreement. Local Community Broadcasting was required to vacate the premises by June 30, 2021. The equipment was relocated to Joe's home so that we can continue streaming on-line.
We began an exhaustive search for a new place to move our operations. We posted a notice to social media and almost immediately we started receiving offers from our listeners. Some people offered a room their homes and churches. Others offered space in their businesses. Joe took every offer and checked the location coordinates against the FCC database to find a place where our transmitter can legally be placed that wont impact other nearby broadcasters. WYML broadcasts on 99.9 Mhz. So we cannot locate our transmitter anywhere near that frequency or a second adjacent. For us the adjacents are 99.7, 99.5 to the low side and 101.1 and 101.3 on the high. In a Chicago market with all the nearby broadcasters that doesnt afford much wiggle room.
Thanks to Jack Shields, owner of Jax Auto and Tire, We found one location that seems to fit. Local Community Broadcasting was granted a new construction permit on June 30, 2021.
August 12, 2022 our transmitter went back on air for McHenry and Lake Counties. From our new home at Jax Auto and Tire 5220 S. Illinois Rte 31, Crystal Lake, IL. When you stop by, please let him know that you listen to WYML!

---